Seillans: One of the most beautiful villages in France
That Max Ernst made famous in the 60's, crossroads of Arts, gastronomy, and the luminous walks of Provence
Tessa and Nigel greet you with a big smile and a nice British accent in their gallery where Tessa exhibits her works, inspired by the landscapes that surround her and her inner romance.
At the edge of the airfield runways, you will have lunch in the ballet of gliders taking off and landing before your eyes, in the hall, on the covered terrace or under the wall trees.
Under the centuries-old plane trees of the Place du Thouron, with its fountain and stone wash-house, Eric Brunel holds this charming restaurant, which he created at the site of his father's old bakery.
An old oil mill in a large meadow where a river flows, the Camandre, this is a nice scenery to enjoy the tasty cuisine of Philippe Choisy. During the summer in the park, or winter in the dining room of the mill, all filled with memories and history.
At the foot of the village of Fayence, Kamandre will move into this country house surrounded by vineyards in spring 2022.
In the heart of the village of Fayence, an inventive and meticulous cuisine.
Cosy atmosphere, attentive service in a beautiful wood-panelled room or in the coolness of the covered terrace.
On the pretty square of the Tourrettes town hall, under the plane trees, the view will delight you as much as the deliciously simmered dishes.
Wine bar and restaurant in Tourrettes
Emily will be delighted to share her latest wine finds with you, along with simple and tasty dishes. The view from the terrace is superb, but the few tables inside are also cosy.
Located at the end of the Place de l'Eglise in Fayence, which is also the market square (Tuesdays, Thursdays and Saturdays), you will be charmed by the small lively terrace and the friendly room as well as by the dishes of the owner who is at the stove in this restaurant.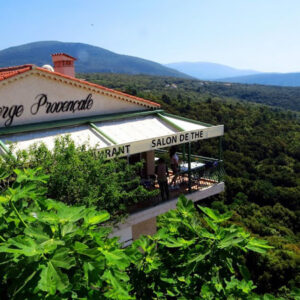 The view from the panoramic terrace of the Auberge Provençale is breathtaking, right down to the sea. You can enjoy traditional Provençal cuisine. Tea room in the afternoon.